About Great Northern Condos
300 Wall St., St Paul, MN 55101
Welcome to the Great Northern Condos in St. Paul.
The building itself was built in 1887 and was converted into high-end, luxury condominiums in 2000. This historically significant building is currently on the National Historic Register. It was designed by James Brodie, the same man who built James J. Hill's house. Within the 7 story Romanesque facade is 53 living spaces with breathtaking brick barrel-vaulted ceilings. Featuring exposed bricks, hardwood floors, arched windows, rooftop access, modern appliances and a private courtyard, these are more than just condos, these are some of the premier living spaces in St. Paul.
These condos are located in the  flourishing Lowertown neighborhood of St. Paul. One can accomplish nearly all day-to-day errands on foot from this spot. Nearby attractions include the St. Paul Farmers Market, the new CHS Field, The St. Paul Hotel and the Minneapolis-St. Paul Green Line. There is a plethora of nearby nightlife and restaurants in The Heartland, The Bulldog and Pazzaluna.
Photo of Great Northern Condos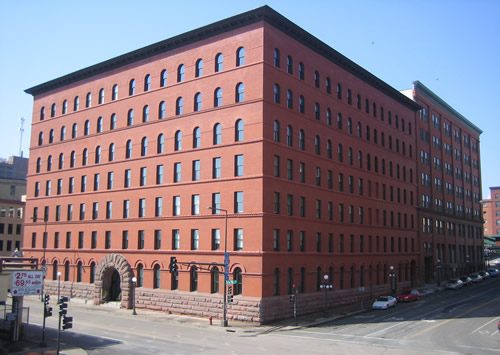 Be the First to Know - Sign Up for New Listing Email Alerts
Map of Grand Place Condos
Great Northern Condos
Great Northern Condos
300 Wall St., St Paul, MN 55101
Great Northern Lofts & Condos for Sale
If no results complete the form above for New Listing Alerts.