About Fitzgerald Condominiums
488 Wabasha St. N, St. Paul, MN 55102
Welcome to the Fitzgerald Condominiums.
The historic Fitzgerald was built in 1908 but was originally named the Shubert building. The bottom floor now houses MPR and several other commercial spaces. Renovated in 2005, the Fitzgerald is now home to 40 units on its upper 4 floors. The units are smaller than your typical loft, but they're made in a European style, a style that is often found in New York lofts. Each unit has a great view of the surrounding city.
The Fitzgerald is located on the corner of Wabasha and Exchange Street in downtown St. Paul. This is a very walker friendly location and has easy access to the skyway system, you are also just 3 minutes from the Metro Green Line. Nearby attractions include the Fitzgerald Theater, Ordway Theater, Rice Park and the Xcel Energy Center. If you're looking for nightlife and restaurants you are only a few blocks from Pazzaluna, Kincaid's, Great Water Brewing and The St. Paul Hotel. This is one of the more valuable and desirable locations in the city.
Photo of Fitzgerald Condominiums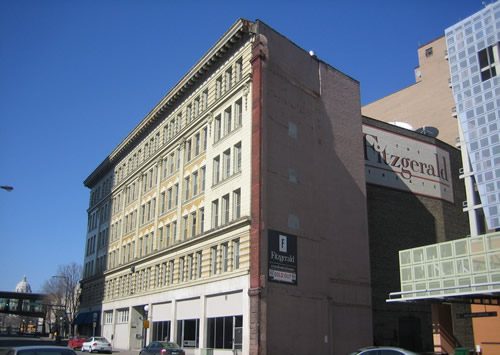 Be the First to Know - Sign Up for New Listing Email Alerts
Map of Fitzgerald Condominiums
Fitzgerald Condominiums
Fitzgerald Condominiums
488 Wabasha St. N, St. Paul, MN 55102
Fitzgerald Condominiums for Sale
If no results complete the form above for New Listing Alerts.